View All News
Summer Reading Activities for All Ages
June 12 2021
Summer is just around the corner, and with it come summer reading programs. Typically, we think of such programs as being for children, but they don't have to be! This year, no matter your age, we have some summer reading fun you can take part in.
For Children
The Summer Slide is a tendency for students to lose some of the gains they had made during the school year due to disuse of the material learned (two months is a long time!). When it comes to literacy skills, the solution to keep children sharp is fairly simple: keep them reading throughout the summer.
What they read doesn't really matter so long as they're reading, and that's where your local library comes in. On top of having tons of different types of reading materials for all tastes and abilities, libraries also have librarians who are trained in helping to connect readers to the books they want to be reading. And, of course, there's the Summer Reading Program. 
Summer reading programs have been found to be a fantastic way to help parents and educators successfully encourage students to read for fun, and have the added bonus of free activities to keep a community's children busy throughout their time off school.
To take part in this year's children's summer reading program, come by the library to pick up everything you'll need: a special bookmark that helps your child keep track of how much they've read, a booklet and code to get access to even more bookish fun through the TD Summer Reading Club website, and (of course) a bundle of books.
Get ready for reading fun, winning prizes, and a sidewalk program on Thursday afternoons with crafts and activities outside (more info on this coming soon!).
For Teens and Adults
Are you up for a bookish challenge? If so, get ready for a summer-long game of Bookopoly!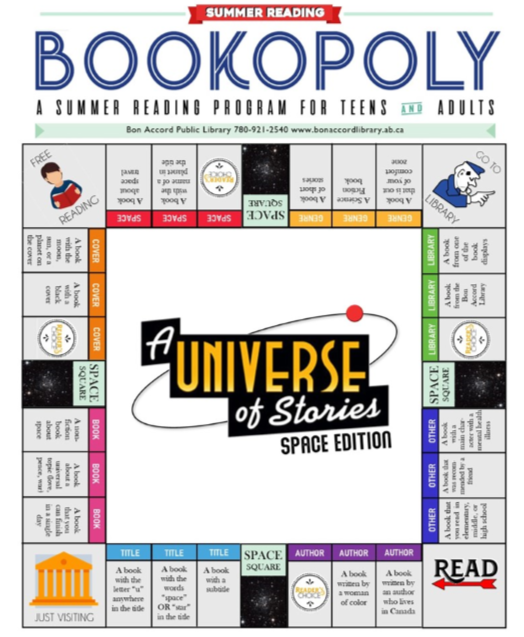 Pick up a game board at the library and read your way around the board to complete challenges and win prizes. 
After all, why should kids get to have all the fun? ;)
By Alice Flecha (Volunteer Blogger)