View All News
Let's Start At the Very Beginning: Part 2
September 9 2020
Is your kid in the process of learning how to read? We have recommendations for some books they might enjoy!
We've talked in a previous post about what early reader books are and how they work. Now comes the really fun part: recommendations!
While we have a lot of great early readers for all levels of the learning process, we've narrowed our recommendations down to three suggestions for where to begin when looking for early reader books in our catalogue to help your little reader practice their letters and have some fun while doing it.
If you're interested in looking for more early reader books through the online catalogue, type in early reader as your search term to find even more great titles beyond the ones listed below!
Noodles the Puppy by Hans Wilhelm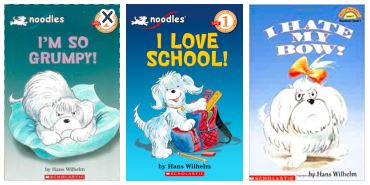 Dive into this series of engaging stories with very short sentences about the exploits of an overwhelmingly adorable fluffy puppy who faces everyday problems the kids can connect with. The stories always end in a positive note, teaching the reader a possible solution to the featured problem without being preachy. 
To find the Noodles book series on our catalogue, search for noodles hans wilhelm.
TOON Books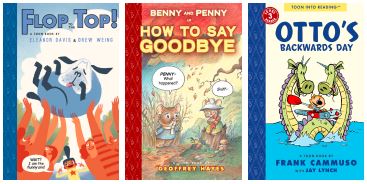 TOON Books is a publisher rather than a series. Founded by Françoise Mouly, the art editor for the New Yorker, it publishes comics specifically for kids aged three and up, and its written content is vetted by educators to make sure that its difficulty fits the intended skill level. The art features both new up-and-coming artists as well as renowned cartoonists and children's illustrators.
To find the books by this publisher on our catalogue, search for toon books.
Scholastic Acorn Books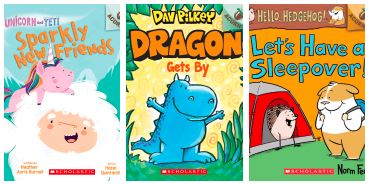 Much like TOON books, Scholastic's Acorn books aren't a single series. Rather, they're a series of series, all designed for early readers that are still at the very start of their reading journey. One of the series (Dragon) is written by Dav Pilkey, the author of the wildly popular Captain Underpants series for chapter book readers. Scholastic also has free printable educational activities to go along with two of their Acorn book series (Unicorn and Yeti and Dragon).
To find Acorn books on our catalogue, search for scholastic acorn books.